Due to COVID-19 epidemic and quarantine, we are extending the trial period of ASTER to 3 months
Due to COVID-19, people are forced to work remotely from home, which has increased the demand for additional computers for all family members. However, the epicemic will not last long and additional computers will become additional burdern for the enviroment as well as  your home budget.
Solution is to create additional workplaces using our program ASTER. But in the conditions of crisis caused by the epidemic, the costs for the license for ASTER may be high for some. Therefore, we decided to extend the trial period to atleast 3 months - we hope this will help many to successfully pass the most difficult quarantine time. 
This promotion will be valid until May 15, 2020 - i.e. if you, activate your copy of ASTER on May 1, 2020 you will be extend the trial period 3 times, and use it free until .
To extend the trial period, simply clear the license information from ASTER when your trial expires at the end of current trial period. To clear the license information select "Cleanup License" option in the context menu of the system in "Workplaces" tab in ASTER control panel: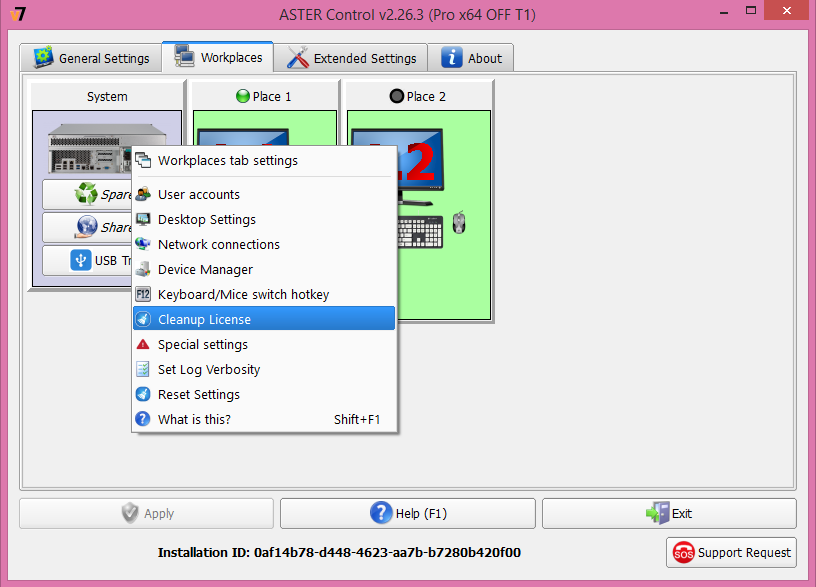 (for details see "Clearing ASTER license information").
We wish you all good health and successful work.