AnyDesk vs Parsec: Here's everything you should know
Here are many reliable remote control applications, and today we're going to compare AnyDesk and Parsec, to see which one is better.
AnyDesk is simple to use and it's privacy-oriented, so you can have fast, secure, and encrypted remote sessions.
Parsec is free to use, and it's designed for game streaming, but it also supports remote control.
AnyDesk and Parsec have their own advantages, and to learn which one is the most inspired choice, keep on reading.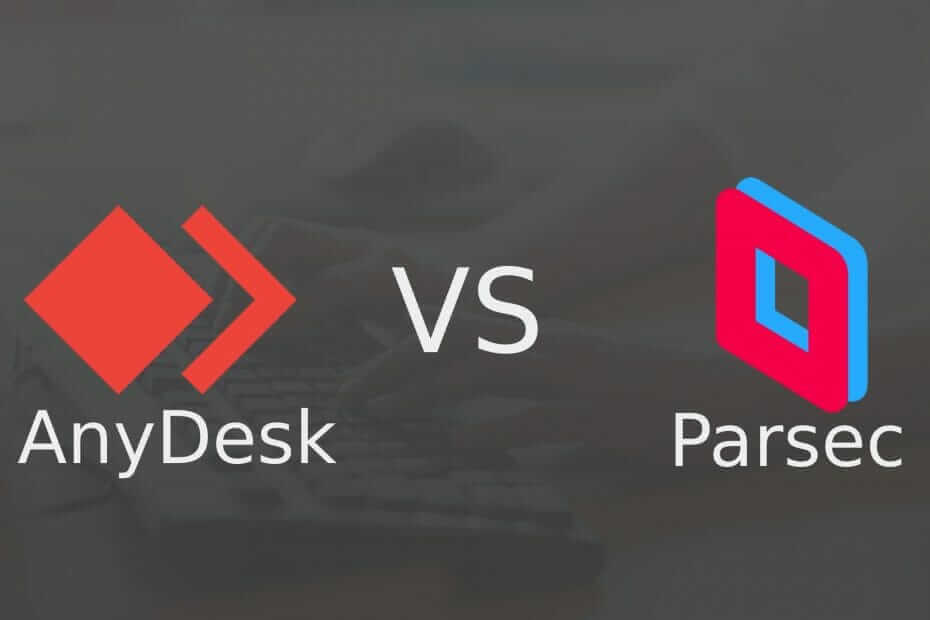 When it comes to remote control software, AnyDesk currently is one of the most popular solutions on the market.
On the other hand, there are various alternatives such as Parsec, for example, worthy of your attention. This tool easily stands out from similar remote control software.
In this article, we're going to take an in-depth look and compare AnyDesk and Parsec and find out which one offers better features to its users.
AnyDesk or Parsec, how do they compare?
What is AnyDesk?
AnyDesk is a simple remote control software that prioritizes simplicity and user security. The software offers a wide array of features, and in this guide, we're going to take a closer look at everything this software has to offer.
Interface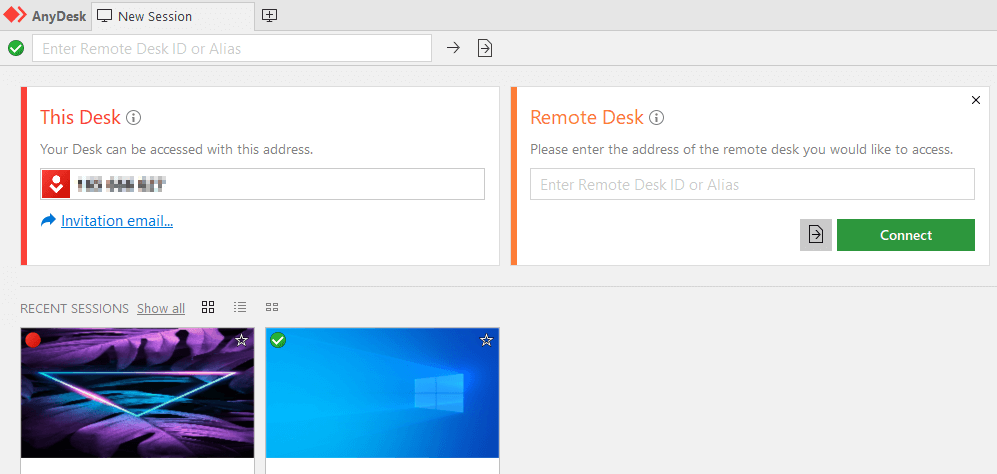 The first thing you'll notice when you start AnyDesk is its simple to use interface. The interface is tab-oriented, and you can open settings or address book in a different tab without interfering with your current session.
In the main menu, you can find your address that you need to share with others if you want to give them access to your PC. Of course, you can just as easily access another device simply by entering its address.
The software will also list recent remote sessions in the main menu, so you can get back to them with a single click.
Security
AnyDesk encrypts all your connections with military-grade TLS 1.2 technology, so you can rest assured that all your connections are perfectly safe from third parties.
In addition, there's RSA 2048 asymmetric encryption that verifies every connection, ensuring that you're always connected to a valid client or remote PC.
The software supports two-factor authentication for an extra layer of security, and it works with most authenticator apps on both iOS and Android.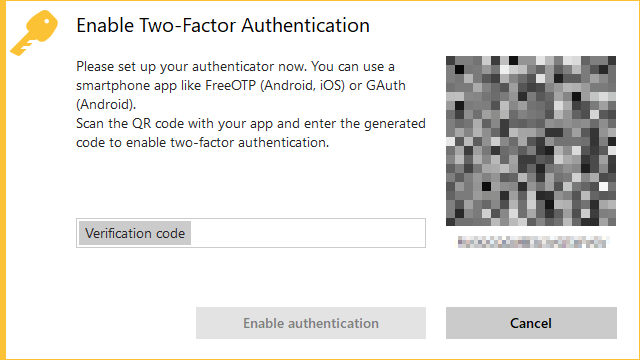 Access Control List feature is also available and it allows you to create a list of trusted devices, meaning that only approved devices will be able to start remote sessions.

Regarding the remote sessions, you can easily manage the permissions for the remote sessions and choose what type of actions the remote client can perform.
For example, you can limit access to your input devices, clipboard, or file manager. By doing so, you'll prevent remote clients from accessing files and folders that they aren't allowed to.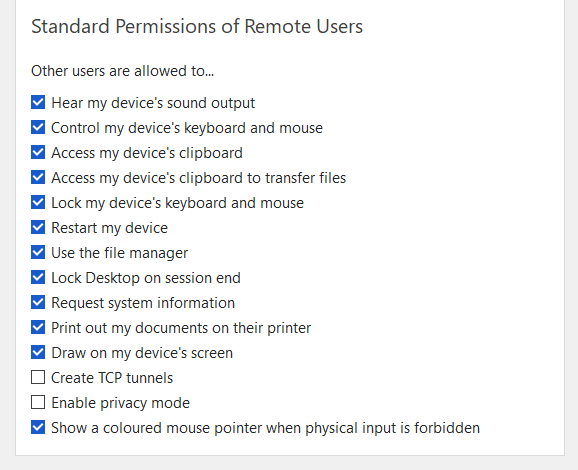 You can also set a password for unattained access thus allowing clients with the correct password to access the host device without any confirmation.
This is perfect if you're working remotely, and you don't have to rely on anybody else to confirm each remote session.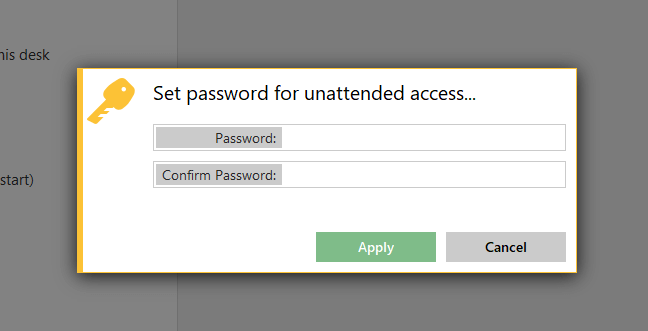 For even quicker access, you can configure the devices to remember the password and start remote sessions with just a single click.
Easy of use
AnyDesk is incredibly simple to use and to start a remote session. You just need to enter the address of the remote device that you want to access and click on Connect – it's that simple.
The remote PC then has to accept your request and that's it, you're good to go. During the remote session, you can chat with the remote client, share files, and allow drawing on the screen for better collaboration.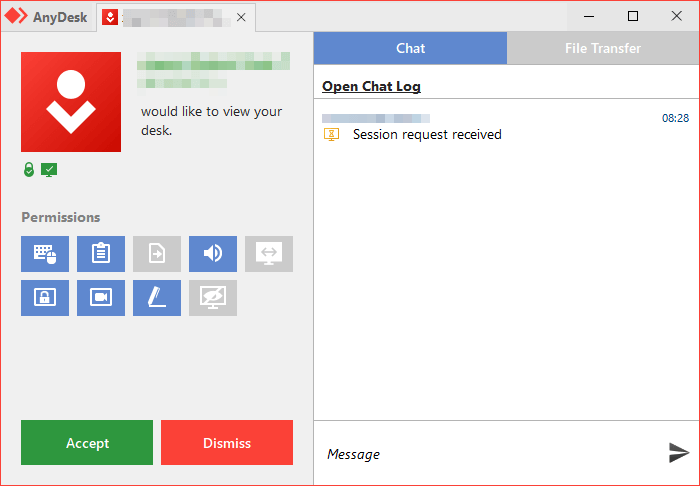 Of course, at any time you can revoke certain permissions, such as mouse and keyboard control, access to the clipboard, or screen recording.
If you just want to transfer files, you can initiate a file transfer session without having to use remote control, which is a major plus if you just want to share files quickly.

Performance
AnyDesk uses a DeskRT codec that reduces latency as well bandwidth usage. In our testing, the application performed without almost any slowdowns when viewing multimedia.
As for non-multimedia purposes, the application performed perfectly during remote control sessions.
AnyDesk final thoughts
AnyDesk offers amazing performance even on low-end devices. The software offers encrypted remote sessions, and with two-factor authentication and device whitelisting, you can be sure that only trusted devices can start remote sessions.
Features such as permission control are welcome since they will help you ensure that remote clients can only perform actions that you allow them to do.
AnyDesk is available on Windows, macOS, Linux, Android, iOS, FreeBSD, Raspberry Pi, and Chrome OS, so it will work without any issues regardless of the platform that you're using.
Pros
Simple to use
Fast, low latency, no lag
TLS encryption, RSA 2048 support
Two factor authentication, whitelisting
Available on all desktop and mobile platforms
Extensive permissions control
Cons
Minor input issues with Android devices
What is Parsec?
Parsec is a remote control software that is optimized for gamers. The software is based on Parsec SDK and a peer-to-peer networking protocol that ensures low latency.
According to the developers, the software can achieve 60fps in UHD resolution, without lag or latency, which sounds impressive.
Interface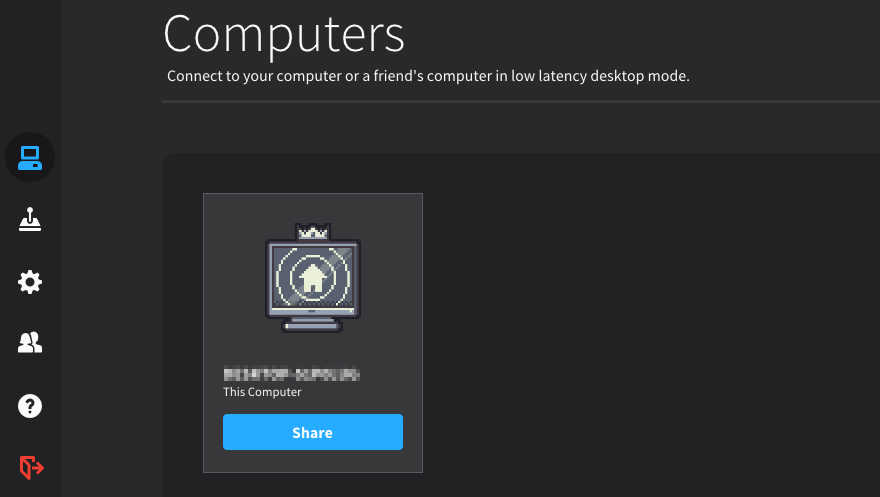 Click Repair All to fix issues with Patented Technologies.
Run a PC Scan with Restoro Repair Tool to find errors causing security problems and slowdowns. After the scan is complete, the repair process will replace damaged files with fresh Windows files and components.
Parsec offers an incredibly simple user interface that lets you start remote sessions in a matter of seconds. On the main screen, you can see all your devices and share your PC ID quickly with others.
Overall, the interface is simple and easy to use, so you won't have any issues navigating through it.
Parsec is optimized for game streaming, and it comes with a unique feature called Arcade. With this feature, you can play games online with your friends or random strangers.
After you select one of the available games, the host will start streaming the game, and you can enjoy it from the comfort of your home.
You can also host your games and let strangers or your friends play with you remotely.
Security
Parsec uses DTLS and SHA-256 encryption for every packet, meaning that your remote sessions are private and completely secure from third parties.
The software allows you to choose the amount of control that you want to give to the clients, and you can choose if you want to give keyboard, mouse, or gamepad control access to the remote clients.
You can also set up a list of approved apps and limit the remote clients only to these apps. If the client tries to switch to a non-approved application, the entire screen will freeze.

Although this feature is incredibly useful, it doesn't work well with Universal apps at the moment. However, this might change in the near future.
Ease of use
Parsec is incredibly simple to use, and you just need to enter the Peer ID in the bottom right corner to start a remote session.
If you're not a fan of sharing long IDs, you can also generate a link and share it with others to invite them to remote sessions.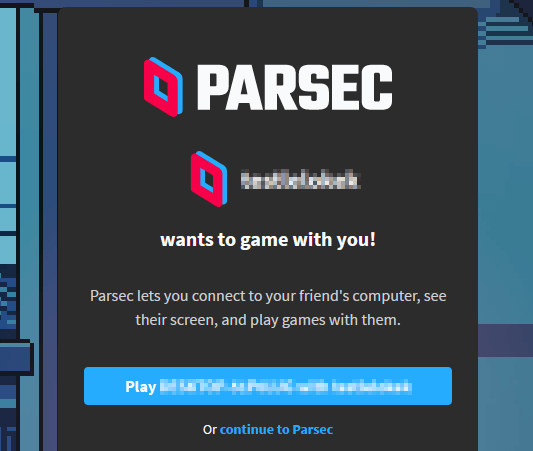 The software allows you to configure various settings, and you can configure the FPS of your stream, resolution, bandwidth, renderer, decoder, and other settings.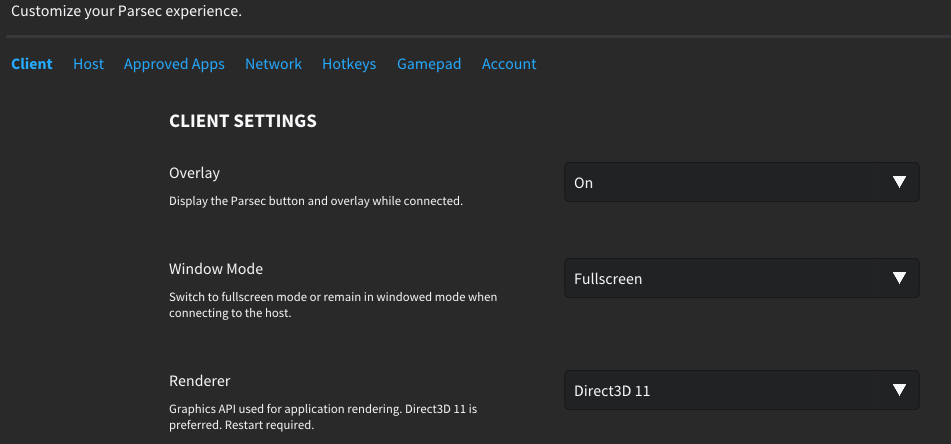 Performance
Parsec lives up to its expectations and it delivers almost lag-free game streaming. As for the remote control aspect, we didn't have any issues, and Parsec handled it with ease.
Keep in mind that Parsec is optimized for newer graphics cards, and if you're using it with low-end or older graphics cards, you won't be able to host remote sessions.
This means that remote users won't be able to control your computer, however, you'll be able to connect to remote computers, as long as they meet the hardware requirements.
Regarding the supported operating systems, Parsec runs on Windows, macOS, Linux, Raspberry Pi, Android, and Chrome OS.
Parsec final thoughts
Parsec is incredibly simple to use, and as long as you have suitable hardware, you won't have any issues hosting remote sessions.
It's worth mentioning that Parsec is optimized for game streaming, and remote control is just one of the useful options that is available as well.
During our testing, we weren't able to use our Android device as a host and control it remotely from a PC. On the other hand, we didn't have too many problems controlling PC from an Android device.
In terms of performance, Parsec runs great with almost no slowdowns. The software is free to use, but if you want to get access to advanced features, you'll have to purchase a subscription.
Pros
Simple and friendly user interface
Optimized for game streaming
Let's you play games remotely with others
Limited access only to the approved applications
Great performance
Cons
Doesn't work with Universal apps
Compatibility issues with low-end and older graphics cards
Remote control lacks certain features
AnyDesk vs Parsec, which one should you choose?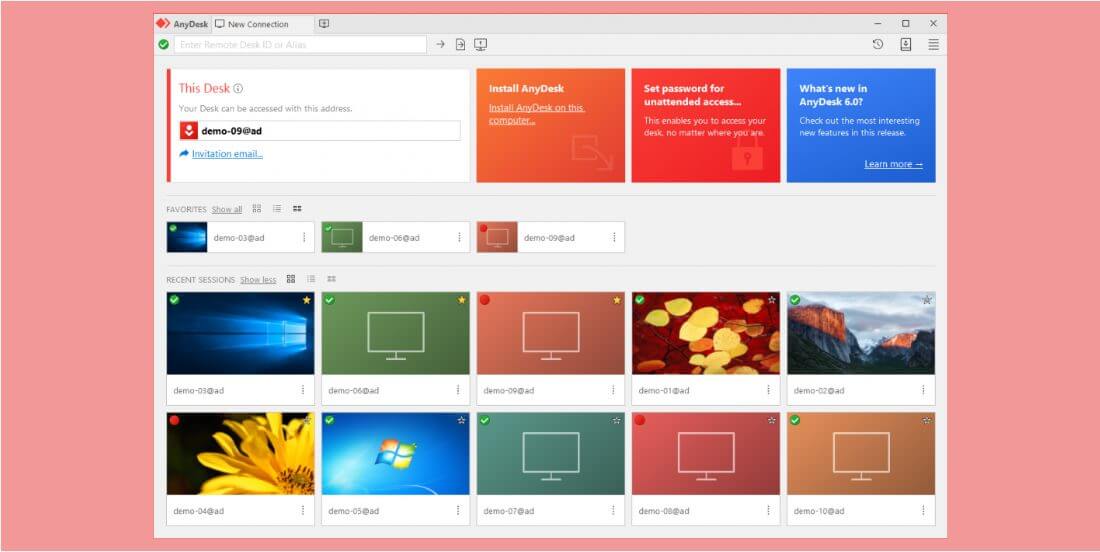 Both AnyDesk and Parsec offer great performance and low latency, which makes them perfect for multimedia.
On one side, Parsec is optimized for gaming, so if you want to play games with your friends or strangers remotely, you can do that with Parsec with ease.
However, the remote control feature seems limited, and you won't get access to the advanced features, without getting a subscription.
On the other hand, AnyDesk is a well-known remote control software, and it's optimized for both home and professional users.
AnyDesk features a wide array of security features, such as TLS encryption, two-factor authentication, and whitelisting.
In addition, AnyDesk allows you to fine-tune your permissions, so you can choose which permissions the remote clients will have on your PC.
It's worth mentioning that we had no compatibility issues with AnyDesk even on low-end PCs, which is a major plus in our book.
If you're looking for reliable, secure, and low-latency remote control software that will work on any PC and any platform, AnyDesk is the best way to go.
Source:https://windowsreport.com/anydesk-vs-parsec/ Date: 28.06.2021г.