What is Miracast? How does it work?
Screen Mirroring
Before going full in defining Miracast you should be familiar with the term " Screen Mirroring". This term essentially refers to reproducing onto a TV screen, the screen of a telephone, computer, and tablet screen. It can also be known as screen sharing.
Screen mirroring types:
Wired connection: Your device is "tied" to the TV via cable. It consists of the usage of an HDMI cable to reproduce the image of the device into a TV.

Wireless: This mode is used with products that you can use directly with no cable. Numerous devices as smartphones and laptops have within them a wireless display technology. Wireless display is an innovation that allows users to stream/cast without wires. This means that whatever you see on your phone, tablet, or laptop screen, you can mirror your TV. An example of a Wireless display standard is Miracast.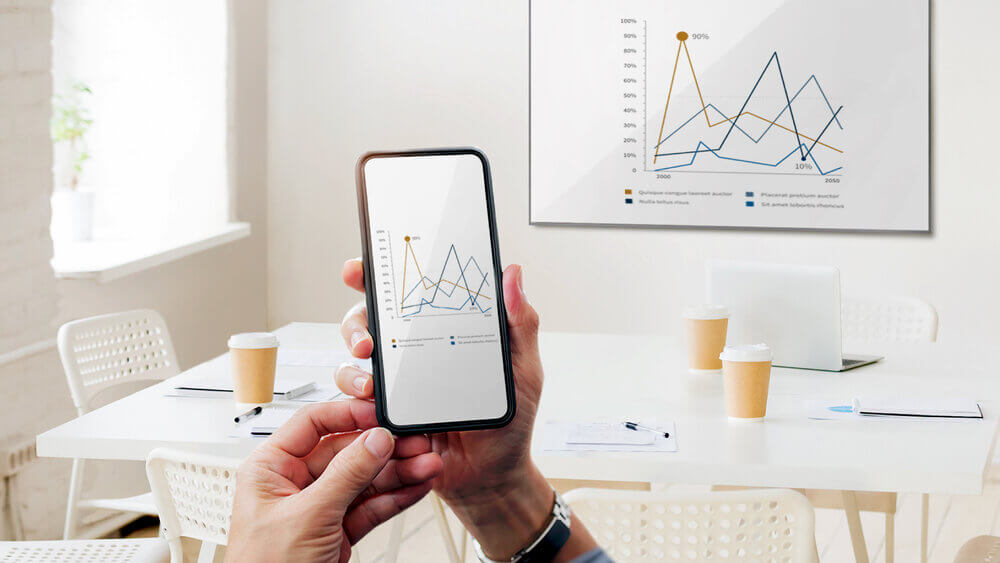 Primary uses of screen mirroring:
Users can do things like view pictures from a smartphone on a big-screen television, share a laptop screen with the conference room projector in real-time, and watch live programs from a home cable box on a tablet.
1. Entertainment, business, and education purposes of reflecting videos, presentations, games, apps, photos from a tiny screen into a bigger screen. It can be used in education to endorse cooperation through the addition of mobility to an instructional setting. In business screen mirroring can be used when deploying various device types needed when presenting content on a big screen. For home entertainment, it can be used when streaming movies, videos, pictures, mobile games, and others to TV.
2. Share from a device onto a computer/TV screen for live streaming or recording walkthroughs.
3. Share device screen to monitor. For example when recording videos using a camera or smartphone.
The main advantage of this technology is that it eliminates the issue of users having to search for the correct cable or link by taking out the requirement of wires and cables. People like teachers and presenters are now able to be disconnected, without wire, from their primary source of display. This gives the opportunity of freedom of movement and eventually making a profoundly cooperative atmosphere.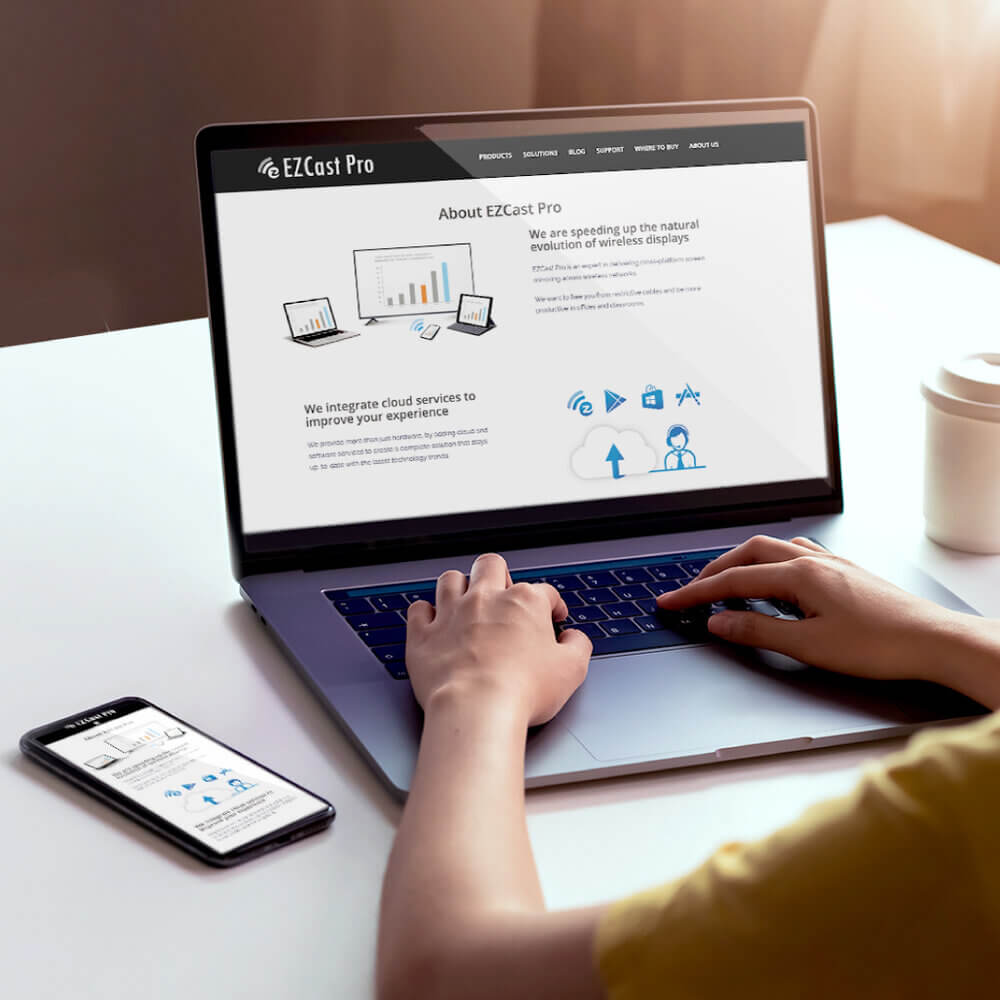 What is Miracast?
Miracast is a wireless technology that is used to connect screens to our computer wirelessly. It is one of the wireless display standards defined by the Wi-Fi alliance, Its is a protocol that allows two devices to be detected, to connect, and to mirror the screen of one on the other. It can roughly be described as "HDMI over Wi-Fi", replacing the cable from the device to the display. Miracast is a peer-to-peer network for wirelessly sending screencasts made up of Wi-Fi Direct connections in a similar way to what Bluetooth does. Thanks to this users can reproduce onto PC screens the content of different devices such as a TV, a Smartphone, and in general everything capable of supporting this technology.
Most of the latest generation devices such as laptops, Smart TVs, and mobiles are capable of supporting this technology, so you may have the possibility of using it and not even know it. It will be necessary to have a wireless connection on our devices to be able to share the screen between them. This technology is native to countless modern devices around the world. Miracast also supports resolutions up to 1080p (Full HD) and 5.1 surround sound. It also supports resolutions to 4k. Via the wireless connection, the video data are sent in the H.264 format, which is the most common HD video encoding standard today. One of its advantages is that, unlike other protocols such as Apple's Airplay or Chromecast's Google Cast, Miracast is designed to be a cross-platform standard.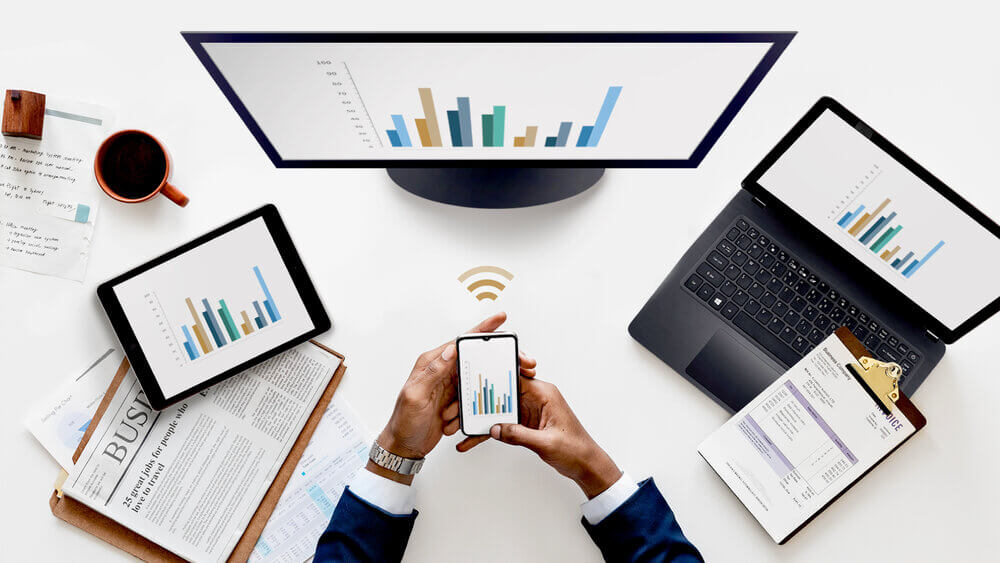 How does it work?
When two devices connect directly, one fulfills its role as the source (the transmitting device) and the other functions as a display (the device receiving and rendering the content to the user). With Miracast you can watch your content where you want. Miracast works by sending content through Wi-Fi Direct, an innovation intended for direct communication between devices, and performs the exchange at a higher speed than Bluetooth. Utilizing this technology allows the sending of data to be up to 10 times faster than Bluetooth, a data flow that when you want to reflect on one screen what you do on another is important. When using Miracast on a mobile or PC to send content to a compatible TV, a Wi-Fi network is created between the two devices. Once this connection is established through your network, the data will be sent from one to another directly and wirelessly.
At the point when the association between the two gadgets is effective, there is essentially no lag. All that is seen on the screen of one can be seen on the other, in real-time. It allows you to send video in FullHD resolution or lower through the H.264 codec, and 5.1 encompass sound. It additionally bolsters WPA2-PSK encryption, which implies that the information we send from one gadget to the next will be ensured.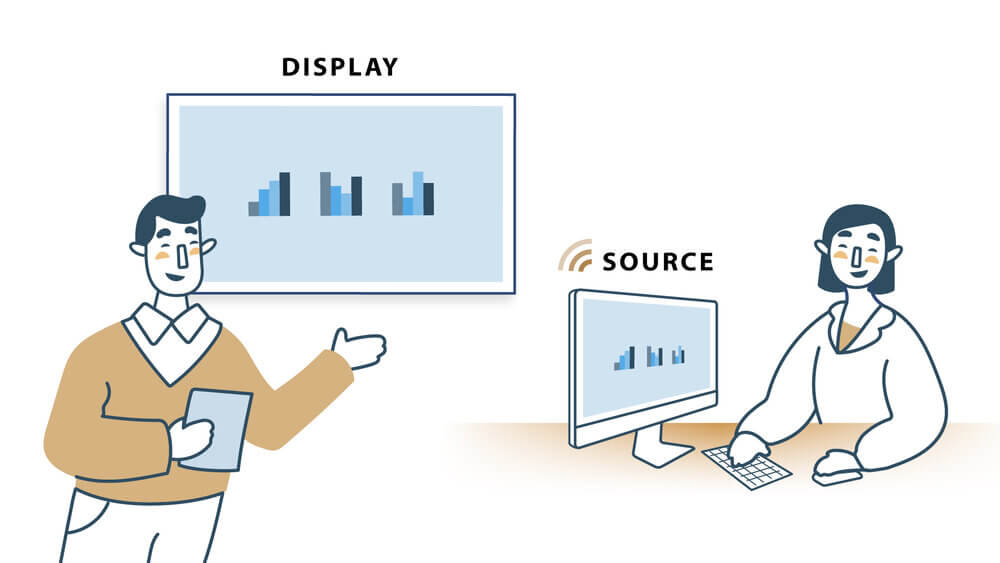 How does Miracast protect content?
Miracast uses industry-standard protection of premium content through the support of High-bandwidth Digital Content Protection (HDCP). HDCP is a content protection mechanism that governs the transfer of media between devices that originate protected content (Sources) and displaying devices (Sinks). This element is intended to secure the digital rights of content owners and to encourage their endeavors to make their content available.
What's the difference between Miracast and Airplay or Chromecast?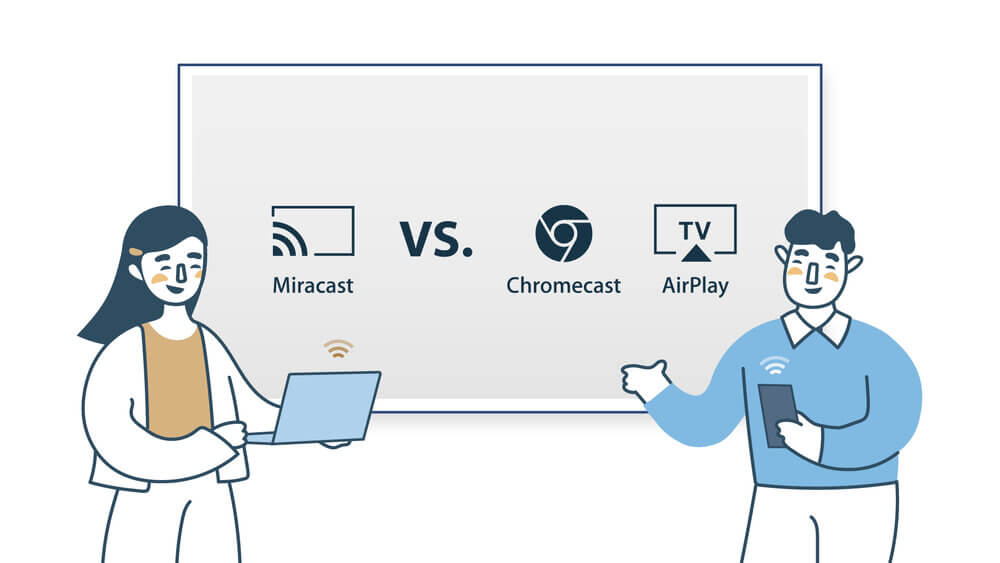 Miracast vs Chromecast
These technologies are similar but not the same. Miracast is capable of mirroring everything from one screen to another. Whereas Chromecast works more as a "receiver" and it is a device. Miracast is a standard protocol that is a part of the Wi-Fi features on new devices. Basically, Miracast utilizes a technology that you have by default.
Miracast vs Airplay
Apple uses its own proprietary standard which is called Airplay instead of Miracast. It allows you to stream video from an iPhone, iPad, or Mac to an Apple TV.
What's advantage does Miracast have better than airplay and Chromecast?
Miracast vs Chromecast
In a business environment Miracast might be a better solution due to the fact that you can easily cast a Windows screen with Miracast. Another advantage of Miracast over Chromecast is that with Chromecast, only the TV (which is plugged with the dongle) acts as the receiver. Last but not least, Miracast can work if you don't have an active internet connection.
Miracast vs Airplay
AirPlay works very well, but it has a big limitation — it only works with Apple devices. Miracast's main advantage is that it is designed to be a cross-platform standard. Opposed to Apple's AirPlay and Google's Chromecast protocols which are built for their respective environment.
Devices
Televisions, set-top boxes, notebooks, handsets, and tablets are among the device types which can be Miracast certified. The majority of recent Windows and Android devices are Miracast certified. Microsoft includes Miracast on devices that come with Windows 8.1/10. Miracast is included on many Android devices with version 4.2 and later. The names may vary from one brand to another.

How to Connect
Check If Your Device is Miracast Supported
Computer
The first thing is to make sure that your device has this protocol. There are several ways in which you can do this.
Try to cast
1. Press the Windows key and P key on your keyboard at the same time.
2. You will be presented options on the right to cast your screen if Miracast is supported.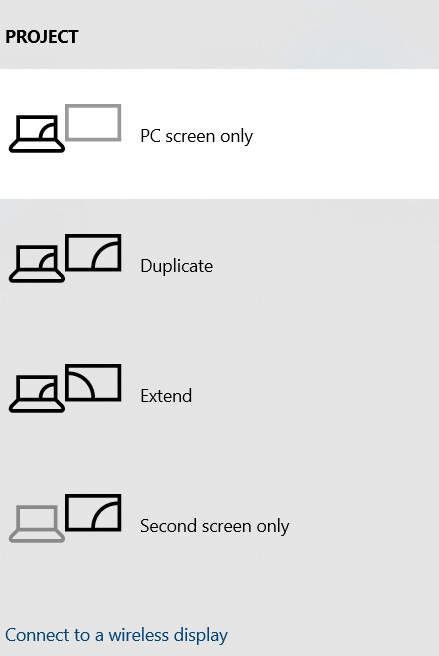 Check display settings
1. Press the Start Menu , then press Settings.
2. Click System.

3. Click Display.

4. If your device is Miracast supported Under Multiple displays, you will see "Connect to a wireless display".
After it has been verified that your computer or laptop is Miracast supported you can mirror your screen to another device.
1. Open the action center.
2. Click Connect.

Smartphone
On the most recent devices, all you need to do is swipe down from the top into the notifications panel, and there's most likely an option in there, for screen mirroring or to enable Smart View, Turn it on.

Source:https://www.ezcast.com/blog/6781/miracast/ Date: 05.10.2021г.