The best mechanical keyboards for 2020
Mechanical keyboards are some of the most beloved among typists and gamers. They can offer the fastest and most accurate switches, great RGB lighting, and fantastic durability. But even among the best keyboards, some simply outshine all the others. Our favorite is the Logitech G Pro, which has a great compact design, excellent switches, and beautiful lighting.
Whether you're looking for a wireless keyboard or a gaming keyboard, we've gathered the best mechanical keyboards for everyone.
The best mechanical keyboards
The best mechanical keyboard overall: Logitech G Pro Gaming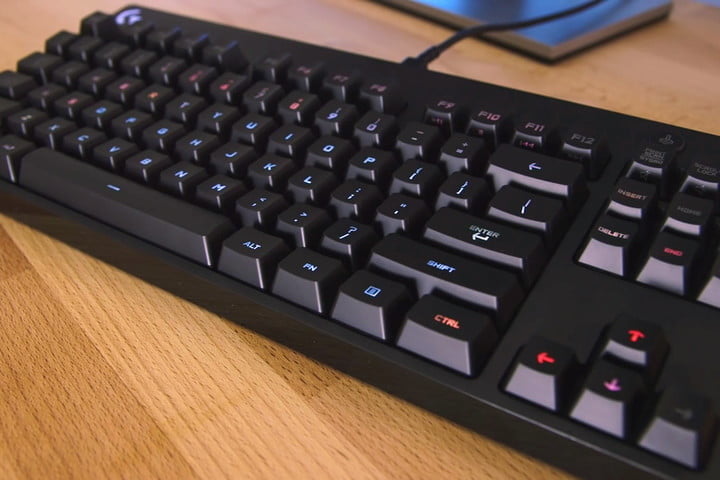 It might target gamers, but the Logitech G Pro is a fantastic keyboard whether you're fragging enemies or feverishly typing away. In fact, it received a near-perfect score when we tested it in mid-2017.
For this model, Logitech ditched the age-old Cherry MX switches for its own, lower-profile, fast-response Romer-G switches. They're rated to last for up to 70 million key presses and go through rigorous testing. The sturdy frame includes rubber feet so that your keyboard won't slip out of position during a crucial moment, and three different angles depending on what your wrists most prefer. The result is a compact, high-performance mechanical keyboard that will last a lifetime.
Whether you're customizing the RGB LED backlighting (onboard storage can hold multiple profiles) or remapping the keys, the tools are intuitive and powerful. You can even create bespoke profiles for individual games so the Pro G responds exactly as you want as soon as the game starts.
Thanks to the combination of fast — and surprisingly quiet — switches, a compact and light package for LAN gaming, RGB backlighting, and a price tag that's not exorbitant, the Logitech G Pro Gaming Keyboard is our favorite mechanical board in quite some time.
Best mechanical keyboard for gaming: Razer BlackWidow Elite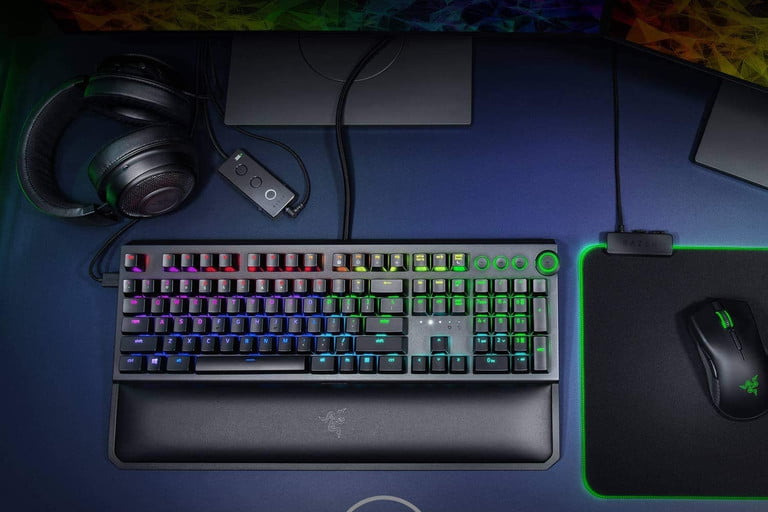 Razer might produce all sorts of great hardware like the Razer Blade, but its high-profile peripherals — top-notch mechanical keyboards, for instance — are still its bread and butter. Our recent Razer favorite is the BlackWidow Elite, a mechanical keyboard that boasts RGB LED backlighting, multiple switch options, a magnetic wrist rest, and dedicated media keys.
Sporting Razer's in-house mechanical switches and fully programmable keys, you can configure the Elite exactly how you want, whether it's with custom RGB lighting, bespoke Macro keys, or how the keys feel under your fingertips (our purchase link offers some customizations right out the door, but there is more you can tinker with over the long term).
The combination of USB 2.0 and audio pass-through makes cable management easier, leading to a cleaner desk. Backing the whole keyboard is Razer's excellent Hypershift software that lets you minutely control every aspect, like keypress combinations. The keyboard is also compatible with Philips Hue devices and gear from more than 30 brands, so it will probably be right at home no matter what setup you currently have.
Best mechanical keyboard for professionals: Das Keyboard 4 Professional
German-engineered and American-made, the Das Keyboard 4 Professional stands out among all others in the Das lineup. It features a standard 104-key layout with multimedia keys located in the top right along with an attractive dial, which fine-tunes your system volume with just a single turn. It flaunts full n-key rollover, so you can press as many keys as you like without interruption.
Additionally, the 4 Professional's gold-plated Cherry MX keys are rated to endure more than 50 million keystrokes, which is now a mechanical keyboard standard. The key caps even feature a new Das Keyboard font for a more refined look and easier reading.
The ergonomics and aesthetics remain intact regardless of the key switches you choose, but the tactile feedback and active response rate are entirely up to you. We prefer the Cherry MX Blue key switches due to the satisfying audible click, but check out the brown or red key switches if you're looking for something a bit quieter with less action.
Best mechanical keyboard without a number pad: Logitech G Pro X
Logitech's G Pro X keyboard is both an evolution of its traditional G Pro, and an unnecessary upgrade if you don't need its main selling point: Swappable switches. Supporting both Logitech's own GX Blue, Brown, and Red switches, as well as a full suite of Cherry MX switches, this keyboard lets you swap out individual keys. That means you can fully customize your keyboard like no other, effectively allowing you to use this keyboard as long as the parts remain available.
In addition to the switches, the swappable USB cable eliminates another potential failure point. Overall, the G Pro X is super compact, great for gaming and typing, and provides subtle and well-designed backlighting. The media keys could do with a little more love, but they're better than having no controls at all.
Unfortunately, Logitech's keyboard a little on the expensive side. If you don't want the swappable switches, the standard G Pro is just as good for less money. However, if swappable switches tickle your fancy, this keyboard is simply fantastic.
Best mechanical keyboard for RGB: Corsair K95 RGB Platinum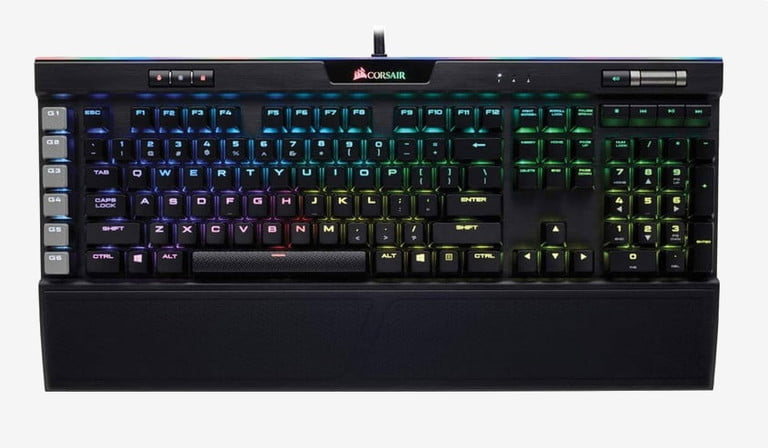 Corsair was once well-known to many as a memory manufacturer. Now it produces some of the world's best mechanical keyboards for gamers and typists alike. A good example is its K95 Platinum, the peak of that click-clacking mountain packing some of the best features of any keyboard on the market.
Available with a selection of Cherry MX switches — Brown or Speed (silver) — and a choice of Black or Gunmetal Grey finishes, the K95 includes RGB backlighting with deep customization options, onboard storage for profiles, and a set of dedicated, textured macro keys. The frame derives from anodized brushed aluminum and includes a detachable wrist rest, one of the most durable designs we've seen.
Arguably the best part of the whole package, though, is that it's backed by the Corsair Utility Engine. The backend software is hands-down the best available at the moment, providing an easy-to-understand interface that enables deeper customization than most for backlighting and key remapping.
The only downside to the Corsair K95 RGB Platinum is the price. Even then, it's money well spent.
Best mechanical keyboard for Macs: Vinpok Taptek keyboard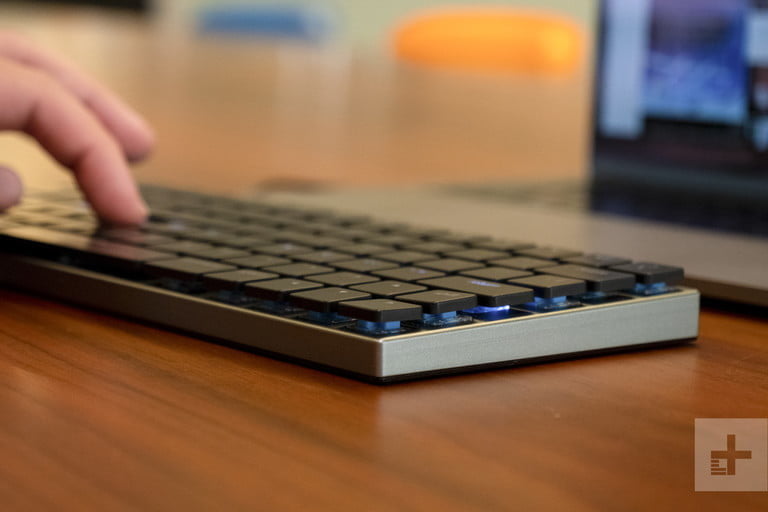 Keyboards for MacOS users are far more restrictive than those of their Windows counterparts, but they aren't nonexistent. Some of them, like the Vinpok Taptek, can be surprisingly good. This model brings mechanical switches and a compact design to MacOS for a price that's not too extravagant — especially compared to the cost of many official Apple accessories.
This keyboard is durable, and except for the keys, you won't find much plastic here, just a single piece aluminum chassis. The keyboard provides a mechanical keyboard's positive feel and responsiveness while maintaining a slim, low-profile design, thanks to its thin keycaps.
This keyboard is easy to transport as its tenkeyless design keeps everything nice and compact. Created specifically for Macs, it features all of the familiar keys you're used to, such as Command, Function, and Option. In addition to this, the model works with Windows, iOS, and Android.
Despite its slim design, each key is individually backlit and supports several preset effects. There are 19 different RGB backlighting modes, meaning you'll never run out of interesting options. You can even use your keyboard via a wired connection while it charges.
The Taptek MacOS keyboard is our top choice for Mac mechanical keyboards. It is a great alternative for those that want the familiar feel of mechanical keys when using their MacBooks. The superb build plus the portable size make it easy to recommend.
Sourse: https://www.digitaltrends.com/computing/best-mechanical-keyboards/ Date: 29.11.2020г.