The best gaming mice for 2020
The best gaming mouse you can buy is the Steelseries Rival 710. It combines high-end performance with a comfortable, familiar design, and even has a fun little LCD screen on the side for bragging purposes.
We've tested dozens and dozens of the best mice, comparing them closely to find the very best. Gaming mice need durable switches, sensors with high sensitivities, on-board memory for storing customized settings, and a larger assortment of buttons to handle your portfolio of commands and abilities. The Rival 710 covers all these bases.
We've included some other good options down below, especially if you're left-handed or want a good wireless option.
The best gaming mouse: Steelseries Rival 710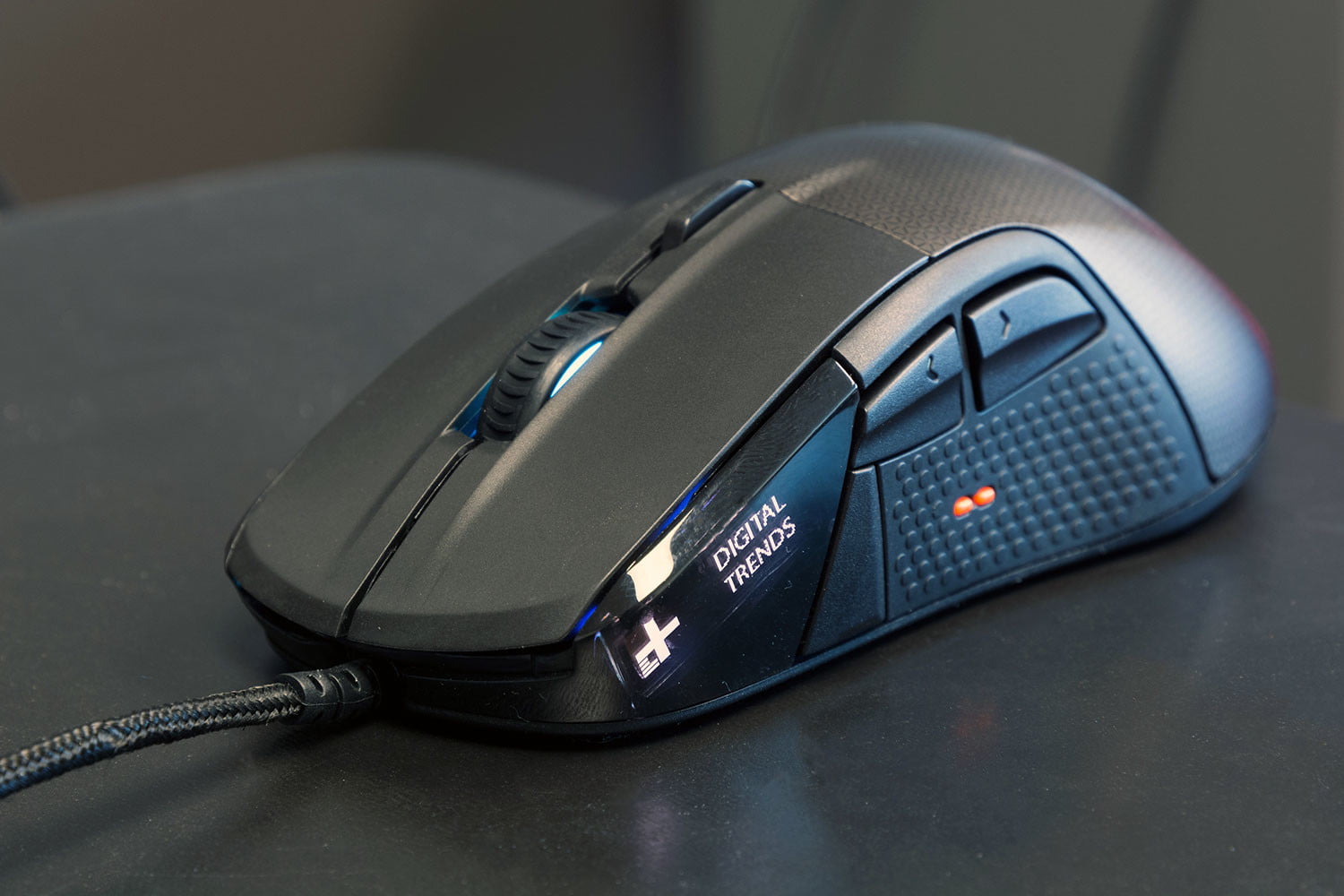 Why should you buy this:The Rival 710 improves on its predecessor and provides a great blend of customization and performance.
Why should you buy this: PC gamers wanting to add flair to their desktop.
Why we picked the Steelseries Rival 710:
The Rival 710 is a testament to the age-old adage: If it ain't broke don't fix it. Taking everything we loved about the Rival 700 (check out our in-depth review above) and leaving it unchanged, Steelseries made the best better by adding a more powerful sensor and higher durability switches.
We love this mouse on many different levels. For starters, it includes a built-in OLED screen that displays any black and white design you create, whether it's a static image or an animation that runs 10 frames per second. Granted your images are only at a 128 x 36 resolution, but that's large enough to claim the mouse as your own with logos, names, and so on. You can create unique designs through the free desktop software or download and install pre-generated content from the company's website.
But that's not all. Customization continues with a rubbery nameplate on the back of the mouse that you can replace with 3D-printed files provided by the company. The second biggest feature with the Rival 710 is its tactile feedback. That means you can program the mouse to vibrate whenever a specific action or event appears on the screen.
Finally, the mouse relies on in-house switches rated for 60 million clicks. There are seven buttons overall that are fully programmable through the desktop software. The Rival 710 simply feels extremely solid throughout its design: There's nothing cheap or fragile sitting under your fingertips. Unfortunately, like its predecessor, the Rival 710 is only designed for right-handed gamers, so if you're a leftie, scroll down for a mouse designed just for you.
The best mouse for lefties: Razer DeathAdder Left-Handed Edition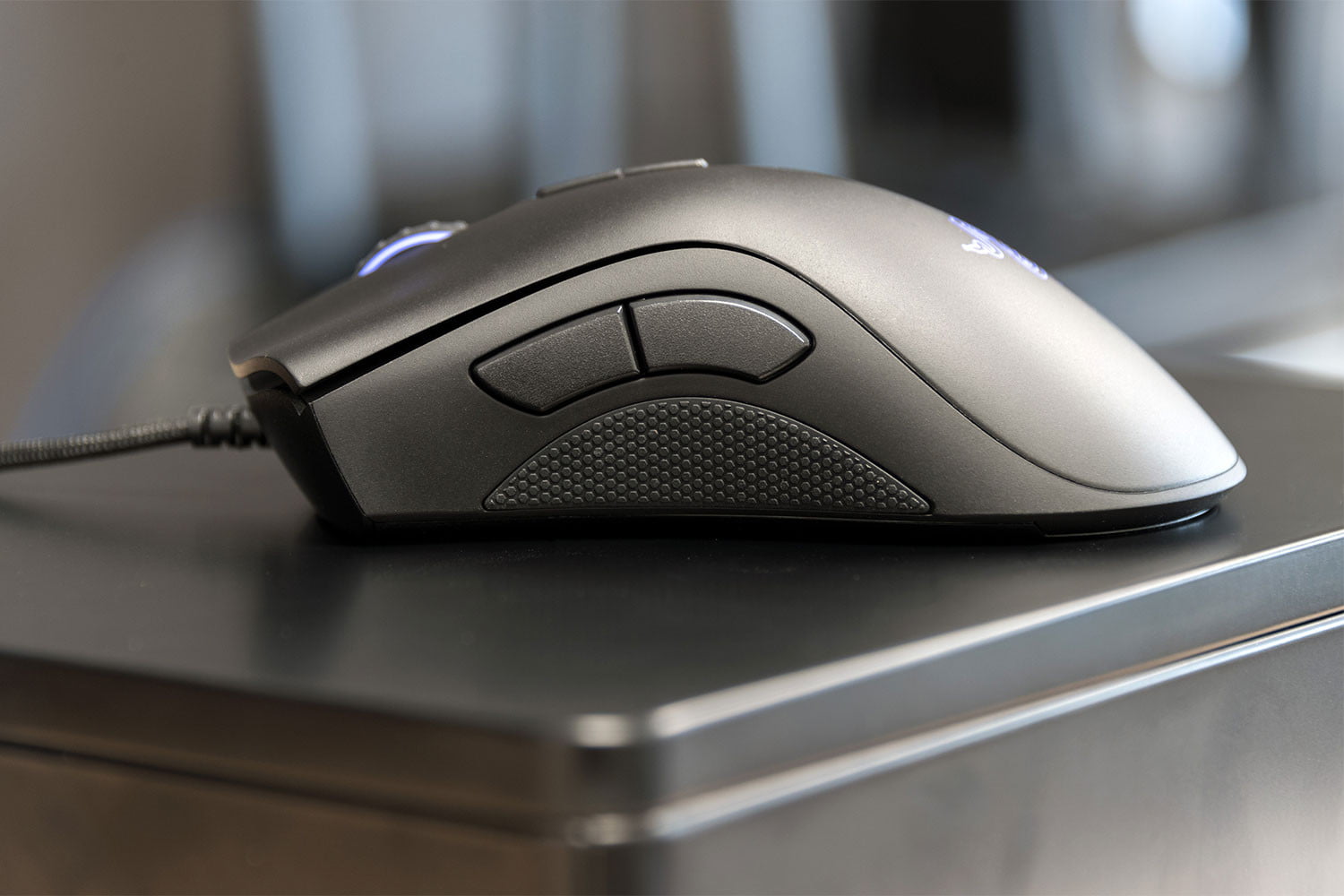 Why should you buy this: If you're a leftie, here's a mouse designed specifically for you.
Why should you buy this: Left-handed PC gamers, of course!
Why we picked the Razer DeathAdder Left-Handed Edition:
Mice designed for left-handed gamers are a rare breed. Although lefties work with the right side of their brains, manufacturers mostly cater to the right-handed crowd. That makes this version of the DeathAdder extremely special given the popularity of the right-handed model.
For the price, you can't expect a lot of visual flair, but Razer hasn't scrimped on performance nor its extremely solid build. It's based on an optical sensor with a sensitivity up to 3,500 dots per inch, 15g of acceleration, and a tracking speed of up to 120 inches per second. This sensor is complemented by "Zero-Acoustic Ultraslick" mouse feet that enables the peripheral to blaze across the surface so movement doesn't feel like dragging a dead rat.
Razer's DeathAdder provides five buttons you can program through the desktop software: Two are ultra-large non-slip click buttons, two reside under the thumb, and the fifth is actually the mouse wheel. Other notable features include a one-millisecond report rate to the parent PC, on-the-fly sensitivity adjustment, two LED-lit zones (mouse wheel and Razer logo), and a gold-plated USB connector for cleaner data transfers. Again, this mouse isn't loaded with frills: DeathAdder is a high-quality, high-performance mouse designed for left-handed gamers that doesn't cost an arm and a leg… and a right hand.
Alternatively, consider buying a highly rated ambidextrous mouse and remapping the buttons to your left-handed orientation.
The best budget mouse: Logitech Prodigy G203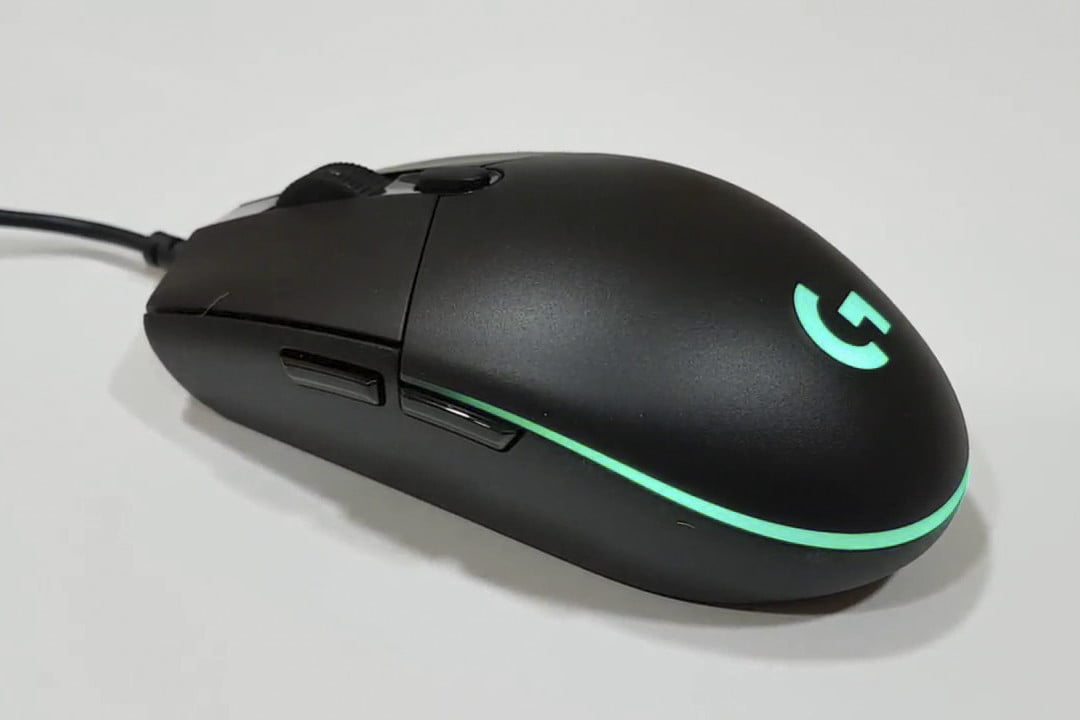 Why should you buy this: You get lots of love for the money, including programmable RGB lighting.
Why should you buy this: PC gamers not wanting to pay more for a mouse than the games.
Why we picked the Logitech Prodigy G203:
There's lots to love with Logitech's Prodigy G203. For starters, it addresses gamers looking for bling, providing programmable RGB illumination in the Logitech G logo and in a strip running along the back of the mouse. This illumination supports 16.8 million colors that you set using Logitech's free desktop software along with different lighting effects, and related triggers that react to the action on your screen. These illumination settings are saved to profiles you can create for each installed game.
On a hardware level, the Prodigy G203 consists of six programmable buttons: The left and right click buttons, the mouse wheel, two located on the left side of the mouse, and the button typically assigned for on-the-fly DPI (dots per inch) shifting. This mouse supports sensitivities between 200 and 8,000 DPI, and you can use Logitech's software to define four sensitivity levels. Thus, by hitting the DPI button, you can quickly move through these four sensitivity levels when you need to quickly take a sniper shot — or go full-blown trigger happy.
Logitech says this model stems from the G100S Gaming Mouse used by eSports professionals but relies on a re-engineered and optimized base design. Both focus on performance and comfort, although the G203 ditches the Delta Zero optical sensor for a newer, unnamed model. Other highlights include "Advanced" button tensioning for precise clicks, left- and right-click switch lifespans of 10 million clicks, and a choice of two main colors: Black or White.
The best wireless mouse: Logitech G903 Lightspeed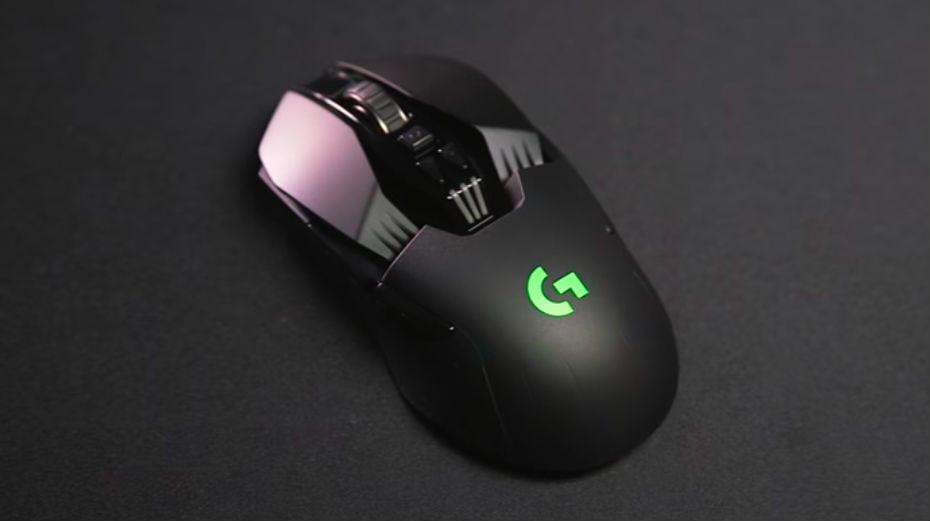 Why should you buy this: There's more to this mouse than meets the fingers.
Why should you buy this: PC gamers wanting to cut the cord without sacrificing performance.
Why we picked the Logitech G903 Lightspeed:
Okay, so it's a little expensive. We get that. But oh boy is it an awesome mouse on several different levels, from its ambidextrous design to its wireless connection. Even more, it supports Logitech's PowerPlay charging station, so not only does the mouse roam free without its tail, it doesn't have to worry about battery changes or overnight recharge times.
The G903 includes 11 buttons that are programmable through the company's free desktop software. Technically, you can only use nine unless you've trained your ring finger to access hard-to-reach buttons on the other side of the mouse. By default, the package includes an extra pair of side buttons that lefties can add to the right side and a cover for the left side when/if they remove the right-handed thumb buttons.
The G903 was one of the first mice to support Logitech PowerPlay system. Simply remove the weight located on the bottom of the mouse, and insert an energy converter module into the same slot. The PowerPlay system is basically a large wireless charging pad with a special mouse mat residing on the surface. Thus, this station is plugged into your parent PC via USB and supplies both a wireless charge and wireless connectivity to the G903 mouse. It's an added $100 cost, and the G903 can still function as a wireless mouse without it.
The best ambidextrous mouse: Razer Lancehead
Why should you buy this: Razer's Lancehead packs a big punch for its price.
Why should you buy this: For any PC gamer who can't find a mouse designed specifically for their hand.
Why we picked the Razer Lancehead:
If you're looking for a gaming mouse that fits into any hand, Razer's Lancehead is a great solution. It works both as a wired and wireless device, so technically it could even fall under our "best wireless" category. But its ambidextrous design wins the show, with each side sporting rubberized grips so you won't lose control of your desktop rodent. This design is complemented with an overall shape that fits firmly into your palm without feeling too bulky or too slim.
The Lancehead includes nine programmable buttons, two of which rely on Razer's in-house mechanical switches. Of course, you can only use seven unless your ring finger can easily make use of the two non-thumb buttons on the other side. Complementing these buttons is an illuminated RGB strip running along both sides of the peripheral, an illuminated mouse wheel, and Razer's LED-lit logo on the palm area. The Lancehead's illumination supports up to 16.8 million colors.
Finally, Lancehead owners can program all buttons and illumination through Razer's Synapse software. You can use Synapse to customize the button commands, set your sensitivity levels, assign lighting effects, and other options to profiles that can be stored directly onto the mouse. That said, you can create a customized profile and assign it to a specific game, as well as assign macros to any button on the Lancehead.
How we test
It's tough to convey how a mouse, particularly a gaming mouse, performs in day-to-day use, which is why the most important test that gaming mice endure in our labs is a simple one: We use them. The tech specs can only tell you so much, DPI, weight, response time, number of buttons, but actual use forms the basis of our mouse review process.
We put them through the paces in a variety of games, making sure the mice that come through our office are up to the task of high-performance gaming, and low-performance office work. After all, a gaming mouse still must be a good mouse.
Cut-rate gaming mice
Let's be honest about gaming mice. At the end of the day they're still just mice, and you'll be able to get by with that old wired mouse you've had for years – your games aren't going to know the difference.
Sure, you might be missing out on buttons and a super-sensitive sensor, and maybe your response time will even be a little slower, but you don't need a $150 mouse to enjoy games. Sometimes, a $10 budget gaming mouse from Amazon makes the most sense.
Sourse: https://www.digitaltrends.com/computing/best-gaming-mouse/#bestbudgetmouse